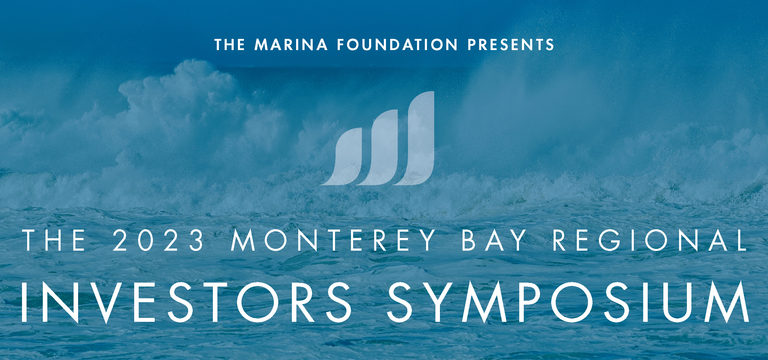 The 2023 Monterey Bay Regional Investors Symposium
Event Date:
Monday, October 23, 2023
Location:
Spring Hill Suites By Marriott The Dunes on Monterey Bay
215 10th Street
Marina, CA 93933
Full Day of Enlightenment Designed for Investors
Join us to gain a better understanding of where we are today and what opportunities tomorrow may bring.
The day will start with a casual continental breakfast buffet from 7:30 to 8:30 a.m., morning presentations, a lunch catered by Teriyaki Madness followed by a keynote address, and additional speakers before ending about 4pm. It will be a full day of interesting discussions on the state of our local/regional economy with presentations about the state of our national equity and bond markets, a look at the Venture Capital markets, updates on local and regional real estate (both residential and commercial), plus a look at our local agricultural economy and the opportunities that Ag Technology may bring to our region, and finally, a look at the future of technology overall.
Projected Speakers Include (see Bios below):
Rich Moran: General Partner at Tonic Bioventures, Noted Author, KCBS Syndicated Radio Host and Podcaster (Keynote)
Brad McMillan: Chief Investment Officer and a Managing Principal at Commonwealth Financial Network
Doug Yount: Project Director, Shea Properties
Dennis Donohue: Executive Director, Western Growers Association Innovation Center
Brad Barbeau: Executive Director, CSU Monterey Bay Institute for Innovation and Economic Development
Steve Emerson: President, The Marina Foundation, Principal, First Pacific Financial Services
Additional speakers will be added before the event.
Sponsorships Are Available Now:
Premium Sponsorship – $2,500 – includes logo on all material, lunch with keynote speaker, 4 tickets
Junior Sponsorship – $1,000 – includes logo on all materials, 2 tickets
Thank you to our current Premium Sponsor: The Marina Club; and to Junior Sponsors: Central Coast Federal Credit Union and First Pacific Financial Services.
The Marina Foundation is a 501(c)3 Public Charity. Proceeds from this event to benefit the Marina community.
Tickets to attend:
General: $75.00
Students: $45.00
Student tickets will be limited to 25 attendees.
Purchase Tickets:
---
2023 Monterey Bay Investment Symposium Biographies
Richard Moran, General Partner Tonic Bioventures, Author, Podcaster
Richard A. Moran is a General Partner at Tonic Bioentures. He is a noted San Francisco based business leader, workplace pundit, bestselling author, consultant and venture capitalist. He is best known for his series of humorous business books beginning with bestselling, Never Confuse a Memo with Reality that started the genre of "Business Bullet Books."​
Moran previously served as President of Menlo College, CEO and Vice Chairman at Accretive Solution, as a Partner at Venrock, Chairman of the Board at Portal Software, and as a Partner at Accenture. Moran has served on the Boards of Glu Mobile Games, Winery Exchange, and Mechanics Bank among others. He currently serves on the boards of AxoProtego, LBA Logistics, New Day Investing, Worldwide Women and others.
Moran is active also in the technology ecosystem in Ireland and is a member of the Global Irish Network, a network launched in 2010 and that is comprised of 350 of the most senior Irish and Irish connected businesspeople from over 40 countries.
In the public or not-for-profit sector, he serves on The Council of the National Trust for Historic Preservation, is the Chair of the Audit Committee at the Noyce Foundation, the National Board of Visitors at the Indiana University School of Education. Previously he served as a Regent at Saint Ignatius College Prep and Chair of Project Open Hand. Moran also serves on the Accountability Structures Expert Panel for the Internet Corporation for Assigned Names and Numbers.
Moran is a radio personality featured on KCBS Radio in San Francisco. He is the host of "​In the Workplace", a program that discusses workplace issues and airs weekly to over a million listeners. He is also a frequent contributor as an Influencer on LinkedIn.
---
Brad McMillan, CFA®, CAIA, MAI, Chief Investment Officer, Managing Principal Commonwealth Financial Network
Brad McMillan is chief investment officer and a managing principal at Commonwealth Financial Network®, a Registered Investment Adviser–broker/dealer based in Waltham, Massachusetts, and San Diego, California. Brad joined Commonwealth in 2006 as head of the alternative investments group. Since then, he has risen through the Investment Research ranks to his current role as chief investment officer. Today, he oversees Commonwealth's investment and asset management groups, chairing the investment committee and acting as the primary spokesperson for the firm's investment divisions.
Brad is a frequent commentator on the financial markets, U.S. economic policy, and the global economy for a range of media, including the Washington Post, Reuters, CNBC, USA TODAY, Barron's, and Bloomberg News. Brad's primary areas of focus are domestic and international economic issues and current events, equity and fixed income markets, asset class valuations and trends, client/investor topics, and Commonwealth positioning and recommendations.
He is the author of Crash-Test Investing, a must-read primer for Main Street investors seeking to help insulate their portfolios against a market crash. Brad maintains a daily blog, The Independent Market Observer, and is a regular contributor to Forbes.
Brad earned degrees from Dartmouth College (BA), MIT (MS in real estate development), and Boston College (MS in finance), and he holds the CFA®, CAIA, and MAI professional certifications.
---
Brad Barbeau, MBA, PhD Executive Director of the CSU Monterey Bay Innovation and Economic Development
Brad combines experience in both academic and entrepreneurial environments. He has been a university professor, entrepreneur, and advisor to multiple startup companies. He currently teaches in the College of Business at CSU Monterey Bay, is Executive Director of CSUMB's Institute for Innovation and Economic Development and consults to and has operating roles in startup ventures, designing and implementing startup and growth strategies.
Brad is an engaging speaker on entrepreneurship, startup strategies, and building entrepreneurial business strategies. He is skilled in facilitating strategic planning and team development.
---
Dennis Donohue, Executive Director, Western Grower's Center for Technology and Innovation
Dennis Donohue is the Executive Director of Western Grower's Center for Technology and Innovation. He is a 30 veteran of the produce industry finishing his career as President of Royal Rose, LLC. He served as Salinas Mayor from 2006 to 2012. During his time as Mayor, he pursued an AG Tech strategy for the purposes of economic development. He has also served as the Chair of the Central California Grower Shipper Association and is a Past President of the Salinas Chamber of Commerce. He can be heard weekly on WGA's Voices of the Valley Podcast on a variety of Ag Tech topics.
---
Doug Yount, Project Director at Shea Homes
Mr. Yount has over 38 years of experience in local land use development and municipal executive administration, serving in positions of city management, director of development services, redevelopment and economic development, and project management for major development projects. Mr. Yount attended the University of California, Santa Barbara, then received a master's in public policy from the University of Michigan, where he was awarded the Arthur Bromage fellowship by the Michigan Municipal League.
Mr. Yount began his career with Deloitte as a consultant specializing in municipal finance, land use development, and organizational development. From there, Mr. Yount served in cities throughout California in San Diego County, Alameda County, and Monterey County, as a Development Services Director, Deputy City Manager, and City Manager. Mr. Yount served as Development Services Director and interim City Manager for the City of Marina, aiding in the entitlement and initial development of a significant portion of the redevelopment of the former Fort Ord. Following this public service, Mr. Yount served as a principal with Applied Development Economics, a consulting firm specializing in economic development strategies and assistance to public and private entities. Mr. Yount recently assisted the City of Salinas in an award winning economic development strategic plan.
Currently, Mr. Yount is employed with Shea Homes, serving as the Project Director for Marina Community Partners, the entity overseeing the Dunes mixed use master plan development, a $1.5B 330-acre award-winning mixed-use redevelopment project on the former Fort Ord. Mr. Yount also has been an adjunct instructor at CSUMB in the College of Business and in the Master's in public policy program at the Panetta Institute, where he taught for nine years in Strategic Management and Entrepreneurship. Mr. Yount is currently the chair for the Habitat for Humanity Monterey Bay Board, former chair of the Monterey Peninsula Chamber of Commerce Board, and former chair of the Board of the Monterey County United Way.
He has been married over 35 years to his wife Nicole, with two children Brett, 33 and Taylor, 30. When not agonizing over development entitlements and construction schedules, Mr. Yount enjoys fishing and the piano.
---
Steve Emerson, Principal, Wealth Advisor, First Pacific Financial Services
Steve was born in Oklahoma, grew up in the Chicago area, and attended schools in Durango, Colorado, and Santa Barbara, California. Steve earned a degree in business economics. He spent almost 20 years in the advertising and broadcast industries in Southern California before moving to the Monterey area in 1996. Here, he met his wife, Dorothy, and his two stepsons, Max and Daniel.
Steve opened First Pacific Financial Services in Monterey (now in Marina) in 2004 after working with both Morgan Stanley and Charles Schwab. Today, he specializes in fee-based asset management and retirement services for individuals, companies, and nonprofit organizations. Steve is an Investment Adviser Representative of the Commonwealth Financial Network.
Steve is a founding benefactor and president of The Marina Foundation, serves as president of the National Steinbeck Center, a board member and treasurer of the United Way for Monterey County, and chairman of the United Way Finance Committee. He has served as president of the Marina Chamber of Commerce three times, served on the Marina Economic Development Commission (2006-2020), the Board of Directors of the Marina Police Activities League (PAL) (2018-2021), and was a co-creator and chairman of the Marina International Festival of the Winds.
Steve and his wife, Dorothy, co-chaired the effort to pass a local bond measure for the Marina Larger Library and served on its board of directors. Steve and Dorothy were named Marina's Citizens of the Year in 2002 and were recognized for their contributions to the Library on National Philanthropy Day in 2004.