The Marina Foundation Board of Directors
The Marina Foundation's Board of Directors are long-standing advocates for the Marina community. The all-volunteer board supports events and organizations that improve the quality of life in Marina and provide services that enrich the lives of so many by assisting both financially and with their expertise in problem solving.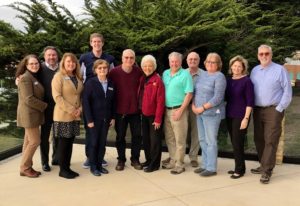 The Marina Foundation Board of Directors' Annual Retreat 2020
Pictured (Left to right): Dorothy Emerson, Steve Emerson, Susan Boettner,
Cody Kievlan, Nancy Fortman, Don Livermore, Jeanne Nakagawa, Mike Mast,
Carl Faria, Mary Estrada, Linda Wight, Dusan Tatomirov.
Meet the Board

President
Steve Emerson
Steve was born in Oklahoma, grew up in the Chicago area, and attended schools in Durango, Colorado, and Santa Barbara, California. Steve earned a degree in business economics.

Vice President
Linda Wight
Linda Wight is originally from Baltimore, Maryland, a graduate of Towson University in Baltimore, with a bachelor's degree in Social Sciences, History, and a minor in Education.

Vice President, Operations
Dorothy Emerson
Dorothy was born in San Francisco and lived in Chicago and in Philadelphia prior to moving to Los Angeles with her family at the age of 8.

Secretary
Nancy Fortman
Nancy was born in Chicago and raised in Morton Grove, Illinois. She came to CA in 1976 completing her MS Ed with an internship in Outdoor Education at Big Basin State Park in the Santa Cruz Mountains.

Treasurer
Leinette Limtiaco
Leinette Limtiaco is the President and Chief Executive Officer of Central Coast Federal Credit Union. Leinette has close to 38 years of experience in the credit union industry and started with the then Fort Ord Federal Credit Union in 1985.

Board Member
Susan Boettner
Susan Boettner owns and is the principal designer for Stensland Design and is the creative director for Ganna Walska Lotusland, a world-renown botanical garden

Board Member
Mary Estrada
Mary Estrada was raised in a small farm community in southwestern Nebraska. Upon High School graduation she joined the Navy.

Board Member
Carl Faria
Carl was born in Azores, Portugal in 1951, and immigrated with his family to U.S. in 1959. He attended schools in Monterey and Santa Cruz Counties and graduated high school in Watsonville 1970.

Board Member
Don Livermore
Don worked as an educator in the Monterey Peninsula Unified School District for 38 years as a K-12 teacher, librarian and administrator mostly in Marina schools

Board Member
Mike Mast
Mike Mast grew up as an Army Brat and moved to Marina and the Monterey Peninsula permanently in 1970.

Board Member
Jeanne Nakagawa
Jeanne was born and raised in Lincoln, California, and graduated from Sierra College. Jeanne married Gordon, a Naval Aviator that served in the Navy for 32 years.

Board Member
Dusan Tatomirovic
Dusan Tatomirovic considers himself to be a very lucky person who has managed to live his love of moving images and technology.

Board Member
Cody Kievlan
Cody graduated from Marina High School in 2011 and received the Don Livermore Scholarship for Marina High School the second year of its inception.