Captain Gordon R. Nakagawa Scholarship – Wreaths Across America – Living Wreath Fundraiser
Deadline to Order: Tuesday, November 28th.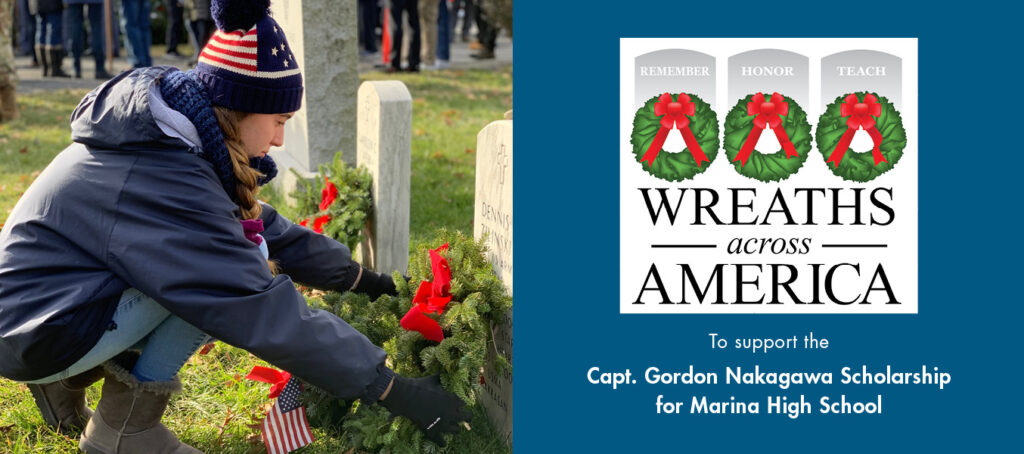 ---
The Marina Foundation, through the Wreaths Across America (WAA) program, is selling living wreaths to benefit the Captain Gordon R. Nakagawa Scholarship for Marina High School. By purchasing a wreath through this program, WAA will donate $5 to the scholarship for each wreath purchased.
TO DONATE (sponsor) follow this LINK to the Wreaths Across America Page for the Nakagawa Scholarship or this QR Code: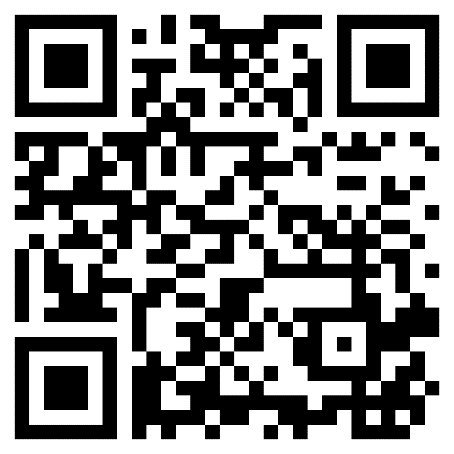 Choose the "Sponsor Wreaths" red tab (next to the "Volunteer" tab) at the top of this page. Once you click on the "Sponsor Wreaths" tab, the name of the Fundraiser and Group ID will appear at the top of that page: "CA0058P-Capt Gordon Nakagawa Scholarship (CA0058P) |22364|". You will be given several options for purchasing wreaths ("Number of Wreaths to Sponsor").
NOTE: If you prefer to purchase a Patriot Pair or another type of wreath "More Options" are listed further down on this "Sponsor Wreaths" page. Click on the one you want, and it will take you to another page which will also have the Fundraiser information at the top.
The next section you can choose to either donate to the California Central Coast Veterans Cemetery or Arlington National Cemetery or another cemetery of your choice. ("Location to Support").
If you have any questions, please get in touch with us and we will be happy to help you get through this process.
We hope you will take part in this very worthy cause to honor Gordon Nakagawa as well as other veterans, and to support Marina High School.
We thank you for your support.
---
About Gordon R. Nakagawa, USN (Retired)
Captain Gordon Ross Nakagawa, USN (ret), was a career naval officer. He graduated from the University of California at Berkeley with a Bachelor of Science degree in Electrical Engineering, and the Naval Postgraduate School with a Master of Science degree in Electrical Engineering, where he also returned to teach in Operations Research.
Captain Nakagawa's distinguished career as a naval officer included flying 185 combat missions during four combat deployments to Vietnam. In December 1972, his aircraft was struck by enemy fire, resulting in him being detained as a prisoner of war in Hanoi. He later became Commanding Officer of the Naval Air Station Pt. Mugu. He coordinated all major design competitions for Naval Aviation at Naval Air Systems Command, and in his final active-duty assignment, was Chair for Tactical Analysis at Naval Postgraduate School Monterey.
During his service, Captain Nakagawa was awarded two Legions of Merit, two Bronze Stars, two Purple Hearts, two Meritorious Service Medals, Distinguished Marksman (Rifle) Medal, Distinguished Pistol Medal, POW Medal and various other campaign, service and individual awards.
He was elected to the Monterey Peninsula Unified School District Board serving 8 1/2 years and is a Board member Emeritus of Leadership Monterey Peninsula. He was granted a Leadership Recognition Award from the California Association of Leadership Programs. He is a 2000 California State University Monterey Bay Distinguished Fellow, a 2004 Monterey County Veteran of the Year, and 2006 Marina Citizen of the Year.
Through all his endeavors, he always strived for greater understanding and excellence. Two $10,000 scholarships are awarded with regard to his dedication to his country, community and higher education. The Marina Foundation takes great pride in awarding The Gordon R. Nakagawa Scholarships.
---
The National Wreaths Across America Day ceremony will be held on Saturday, December 16, 2023. On that day, volunteers will be laying wreaths at grave sites at Arlington National Cemetery and at cemeteries throughout the country.